The Products section of the Byte Dashboard is where you will set up and manage all the products you plan to sell through your Byte store. The Details section of Products holds information such as ingredients, nutritional details, and cost details. These details are shown on the menu screen to the customer and shown in reporting for product performance measures. 
In the Details section, you can edit and update all the information about products in your Byte store as shown below: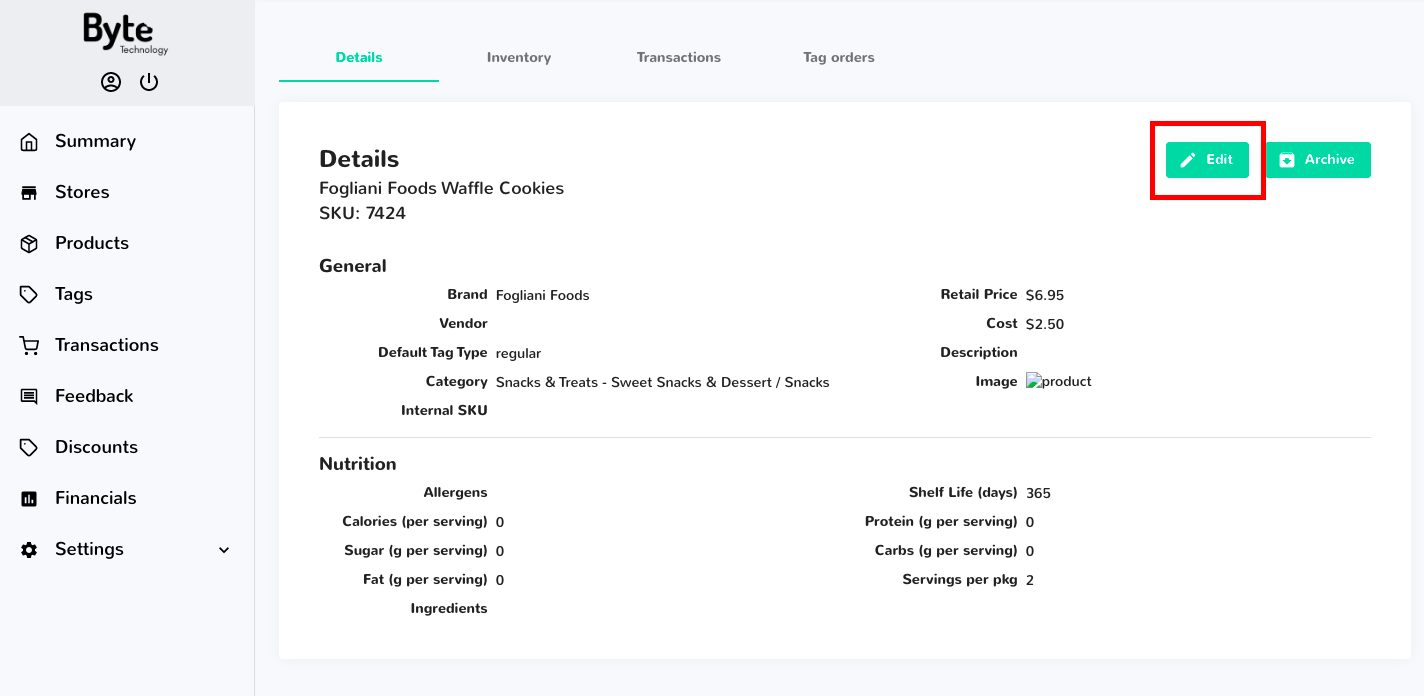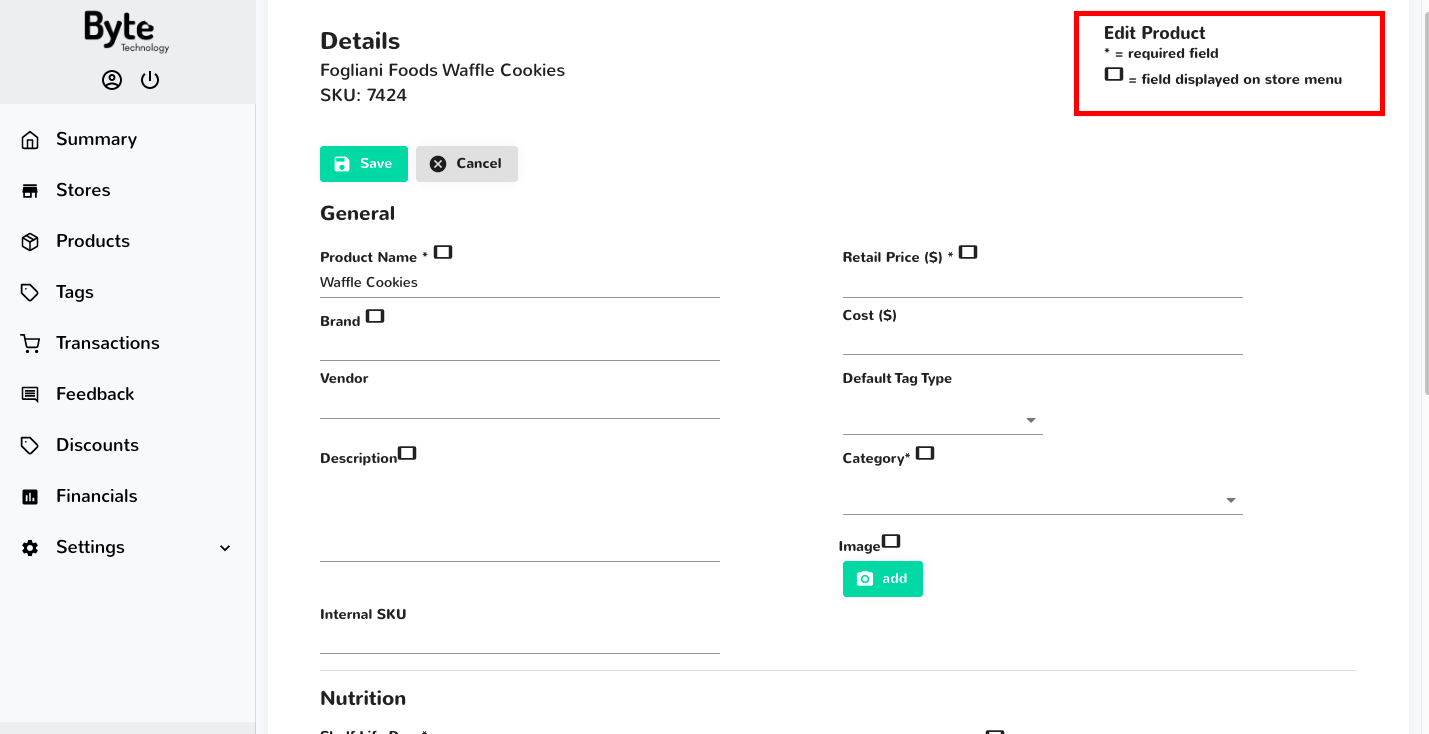 General Information
SKU: a unique system-generated product number
Product Name: the name of the product that is visible on the menu screen and the emailed receipt
Brand: the manufacturer or brand of the product (ex: Justin's for Justin's peanut butter cup) 
Vendor: the company from which the product is purchased (ex: the name of a distributor you purchase from)
Description: short description of the item
Internal SKU: can be used for reference if your ordering tool has a different SKU for this same product
Retail Price: the retail list price of the product
Cost of Food: the cost of the product to you, the operator; it's particularly important this information is filled out if you want to take advantage of reporting showing the profitability of your fleet of Byte stores
Default Tag Type: the tag type you want to pre-populate when ordering tags for this product
Category: the menu category the product falls into. This is used for the customer to filter menu options. 
Image: the image to be shown on the menu screen. Image size recommended is 4:3 aspect ratio, PNG or JPG format, 72 DPI resolution. Image size upload limit of 1.5 MB. 
Nutritional Information
Nutritional information is displayed on the tablet menu and viewable by your customers if they tap on a specific product image. The product detail view on the menu looks like the following: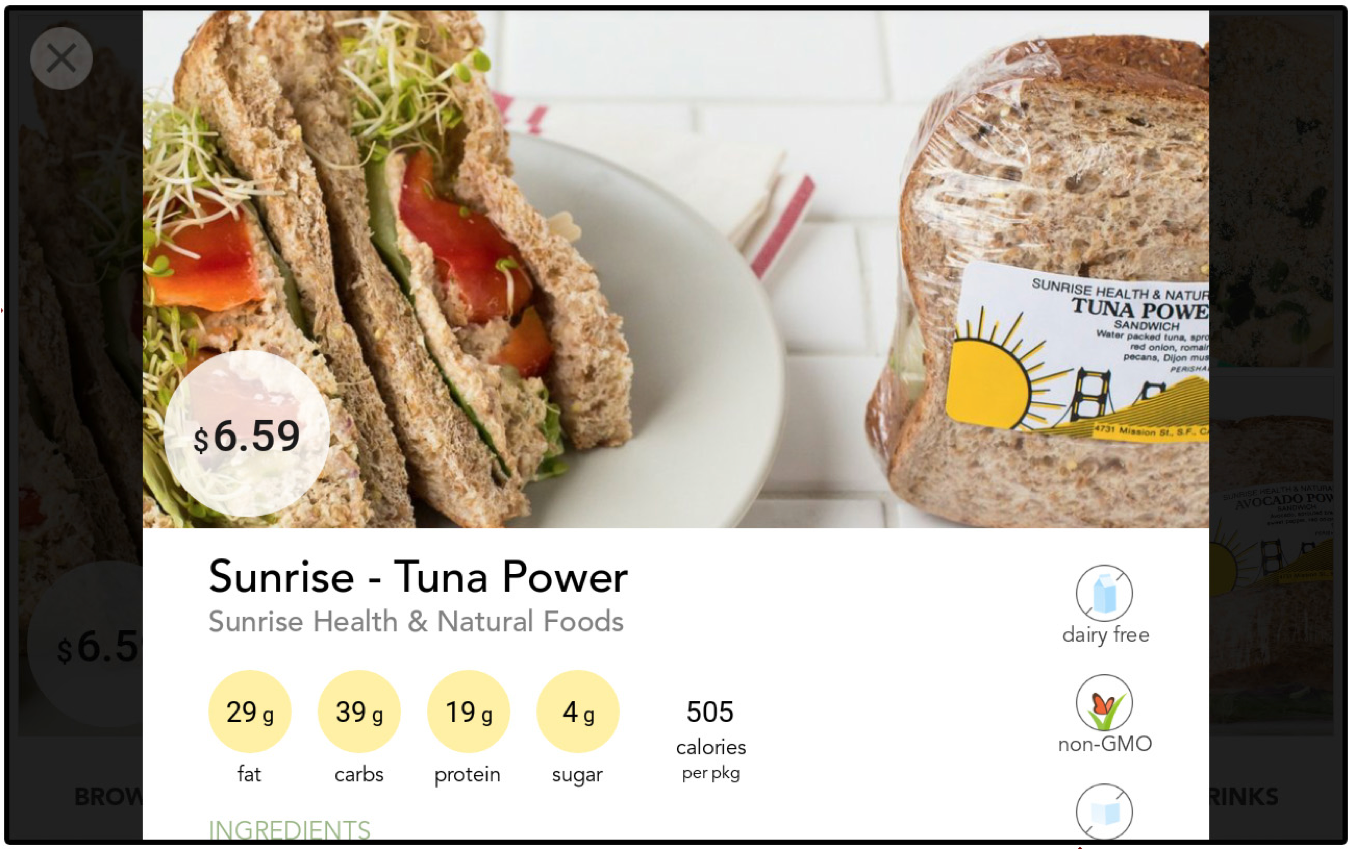 Shelf Life: the number of days of shelf life until the product is considered expired
Calories per serving: calorie count per serving; note that on the menu the user will see "calories per package", which is automatically calculated based on calories per serving multiplied by the number of servings
Protein: grams of protein per serving 
Sugar: grams of sugar per serving
Carbs: grams of carbohydrates per serving
Fat: grams of fat per serving
Number of Servings: number of servings per package
Ingredients: list of ingredients  
Allergens: list of allergen categories; this will allow users to filter products on the store's menu